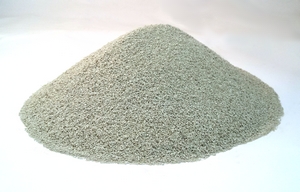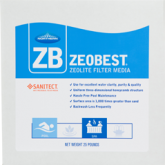 FINALLY, a filter media that provides DE-like water clarity for your sand filter!
Yes, Zeobest, a safe, naturally occurring, environmentally friendly zeolite filter media, provides DE-like water clarity in sand filters. Our uniform three-dimensional honeycomb structure filters down to 3 – 5 microns just like DE. Zeobest out performs pool filter sand because our surface area is thousands of times greater. But don't be fooled! NOT ALL ZEOLITE FILTER MEDIA WERE CREATED EQUALLY!! Compare Zeobest to the other products on the market. Please check out Zeobest's performance for filtration/water clarity and our ability to reduce or eliminate chloramine formation and the resulting eye irritation. Zeobest has the highest Cation Exchange Capacity (CEC) of any zeolite filter media in the US. Click on the link below to bring up our certified laboratory performance results.
Choose Zeobest for superior water clarity, safety and to eliminate eye irritation caused by chlorine and chloramine formation.
Also, consider moving up to Zeobest Ultra!! We combine the superior water clarity and CEC capabilities of Zeobest with our patented Sanitect technology. Zeobest Ultra is the first EPA Registered, antimicrobial, anti-algae filter media for sand filters. Zeobest Ultra will save you as much as 40% or more on your chemical usage per year and eliminate the frustration of operating a pool! Yes, put the FUN back into owning a pool with Zeobest Ultra!
Advantages
Superior water clarity – Zeobest filters down to 3 – 5 microns
Highest CEC in the US to reduce or eliminate eye irritation
Longer filter runs resulting in fewer backwashing
Half the weight of filter sand
Lasts as long as filter sand
Available in 25-pound or 50-pound bag
Safe and environmentally friendly
Physical Characteristics
Color: pale green
Weight: 50-pounds per cubic foot
Filtration capabilities: 3 – 5 micron
CEC: 1.67 meq/gram
Purity: 90% +/- 5% pure clinoptilolite
Operational Specifications
Follow filter manufacturers specifications for placing Zeobest in filter
Freeboard: 50% of bed depth
Flow rate typically: 15 – 20 gpm/sq. ft.
Backwash expansion: 35% of bed depth
Download Zeobest SDS