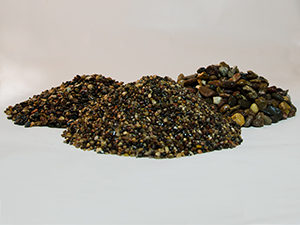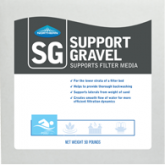 Northern Filter Media's pool support gravel possesses the perfect attributes to support the filter media whether it's Zeobest, Zeobest Ultra or Northern Filter Sand. Our support gravel provides for a much more complete and thorough backwash of the filter media by defusing the backwash water in many more directions than laterals do by themselves.
Our support gravel is multi-colored, hard and rounded. We size it to the exact specifications needed for pool filters: 1/4×1/8 inch. Properly placed, Northern Support Gravel will help protect and extend the life of your filter laterals.
Northern's Support Gravel meets or exceeds AWWA B100-16 (latest edition) and certified under ANSI Standard 61.
Advantages
More thorough backwash by defusing the backwash in many more directions
Supports the filter media
Specific Gravity: 2.65+
Protects the laterals
Extends the life of the laterals
Physical Characteristics
Hard, rounded and multi-colored
Weight: 100-pounds per cubic foot
Size: 1/4 x 1/8 inch
Packaging: 50-pound or 100-pound bag
Download Support Gravel MSDS